Find Your Gameday Name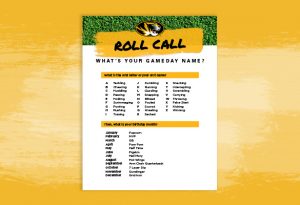 Coloring Pages
University Team Nicknames
How well do you know University team nicknames? Test your knowledge with this week's pre-game quiz. Download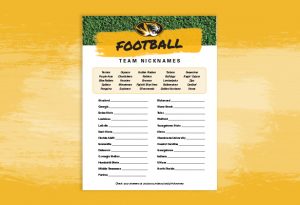 Homegate Playlist
Every homegate needs good music. Search Spotify for the #Zoutoyou play list or download the list and start to add your own. Download
Zou to You Trivia
How well do you know Mizzou? Test your knowledge against friends and family and see who comes away with the bragging rights! Download & Print
Gameday Predictions
Gameday predictions! Do you have a sixth sense when it comes to our Tigers? Print out a sheet for each person and fill in your predictions before the game starts. Each right answer equals 1 point. At the end of the game, tally up who has the most points and celebrate your victory! Download & Print
Missouri Tiger Bingo
Looking for a family-friendly game to play while watching our Tigers on the field? Download and print these 6 bingo cards to play with family and friends.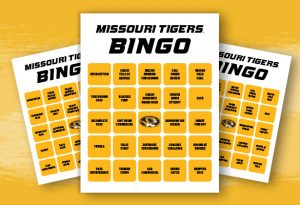 Social Graphics
These stickers are a great way to jazz-up your gameday posts! Just use right-click (PC) or control-click (Mac) to select any item to download.
These graphics are available on Giphy! Search #ZouToYou in stickers to use them in your social posts.
| | |
| --- | --- |
| | Mizzou Football |
| Tiger Couch | #ZouToYou |
| Tiger Tail Wave | Tailgate Tent |
| Rock M | Truman the Tiger Pushup |
| | |
| | |
| | |
| | |
| | |